This is how secure the Telegram app is for iOS and Android
Alongside WhatsApp, the messenger app Telegram is probably one of the best-known in Germany. It has registered a significant increase in users in recent years (550 million as of 2021), which is not least due to the criticism of the messenger leader WhatsApp. But is Telegram really secure in contrast to WhatsApp? Here is the privacy test result for the Telegram app.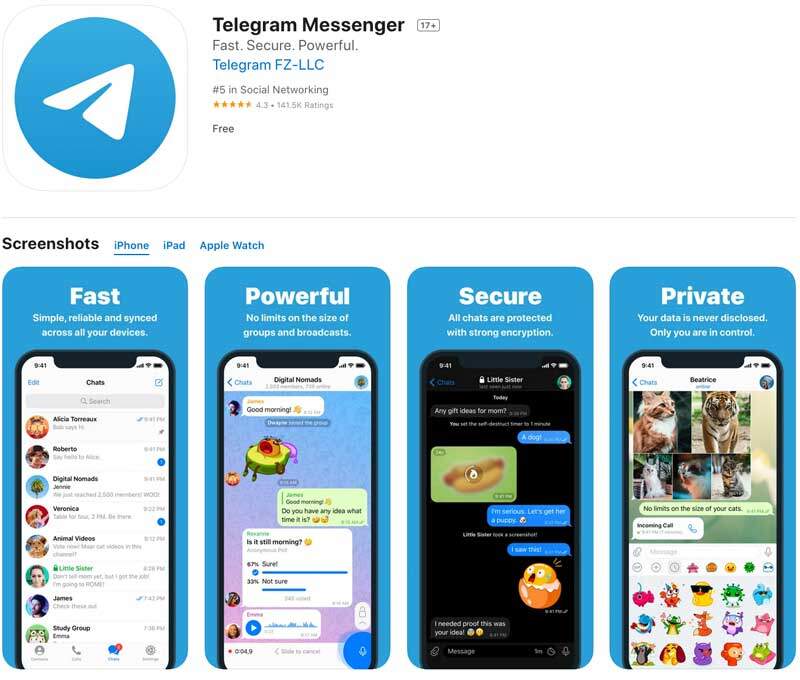 WhatsApp alternative Telegram in the iOS App Store
About Telegram
Telegram is a free, cloud-based instant messaging service. In addition to classic chat functions, it also enables independent groups and channels on specific topics. According to its own information, its headquarters are in Dubai, whereas the app was originally developed in Russia.
Telegram and data protection: The test results
(Android 7.5.0 and iOS 7.5)
Telegram only had a privacy policy in the Android version at the time of the test; it is also in the App Store and is only available in English. Furthermore, the imprint is missing on the Telegram website. In addition, Telegram is the only messenger app in our messenger privacy test that does not encrypt transferred data end-to-end by default, but uses its own MTProto protocol. This means that chats are only encrypted via the MTProto protocol between the device and the server. Thus all transferred data can theoretically be viewed by the operators and stored permanently. We critically evaluate the associated risks of possible third-party access.
Privacy: Registration, Server & Tracking
The registration itself is done by a phone number, this does not have to be used on the device itself and thus allows independent use. In addition, any number of devices can be registered with the same number. Users have to miss out on the video chat function, but they can also use all the usual functions. We could not detect the use of trackers or analysis tools in the iOS version, but in the Android version. In addition, the app provider's servers are located in Europe. We did not find any major errors in the data transfer, but we see an increased risk of data loss compared to other messenger apps.
Telegram app: Our privacy assessment
In conclusion, it can definitely be said that Telegram scores much better than WhatsApp in the data protection comparison. Nevertheless, there are some shortcomings that the Telegram app should also work on. There is also another reason that speaks against its use. According to various critics, Telegram does not react against incitement and calls for violence in its channels. In the meantime, even the placement in the German App and Google Play Store is at stake. We therefore recommend using secure messengers like Signal or Ginlo.