This is how secure the Signal app is for iOS and Android
More and more users are switching from WhatsApp to Signal. After all, Signal, like many other WhatsApp alternatives, advertises that it is particularly privacy and data security compliant. We tested how secure the Signal app really is!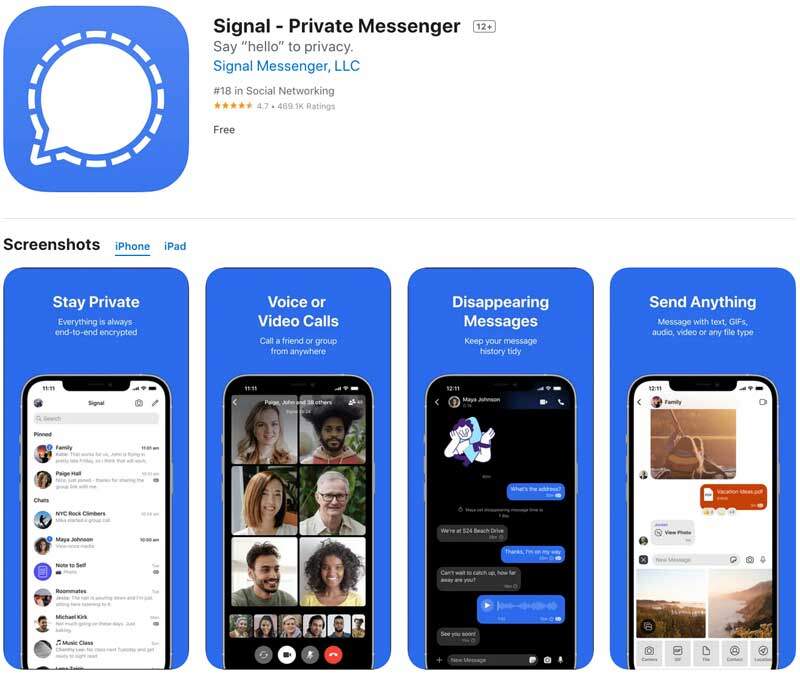 The Signal App in the iOS App Store
About Signal
The Signal Messenger app first appeared on the market in 2014. It originates from the US-based, non-profit Signal Foundation and is known for its data-saving and end-to-end encryption. For this reason, many official and government agencies recommend Signal as their favorite messenger. However, Signal is particularly well known due to whistleblower Edward Snowden. He tweeted at the end of 2015: "I use Signal every day. #notesforFBI (spoiler: they already know)…". Signal is free of charge and ad-free.
Signal and data protection: The test result
(Android 5.35.3 and iOS 5.37.2)
Both the Android and iOS versions of Signal allow you to share different data with your chat partners. For this reason, the app asks for different permissions. These include contacts, photo gallery, location data, camera, messages, microphone, and FaceID in iOS. In the Android version, Signal also queries the calendar and the external storage. The app not only encrypts the sensitive data, but also only transmits it via the app provider's network. Furthermore, no trackers or analytics services are integrated into the app. Since all of these accesses are important for the app's functionality, we rate the permission request as harmless. In addition, users can decide for themselves whether they want to allow access to the contact book – it is not necessary by default. Only the user's own phone number is required for use, which critics find quite questionable.
Privacy Highlights: Open source & encryption
We also rate the app's encryption method particularly positively. The operators have developed their own cryptographic communication protocol for this. Thus, they protect messages and calls with end-to-end encryption. Fortunately, our expert analysis did not reveal any violations in data transmission. Moreover, the app is open source. This means that the source code can be viewed by external parties and can therefore be audited. The only minor criticism is that Signal only provides an English-language privacy policy.
Signal app: Our data protection assessment
In terms of privacy, we can recommend using the Signal app. Not only because it is an open source software that belongs to a non-profit organization, but also because all the requirements for a secure messenger are met. Users can be confident that their data will be handled securely and in accordance with data protection regulations.
If you are interested in the detailed test reports, you can find the PDF files for free download here: iOS & Android.