Mobile Security for mobile companies
Protect your company's mobile device fleet with Europe's leader in mobile application and app risk management.
With our products you get
time-saving app controlling
prevention from cyberattacks
avoidance of fines
saving of valuable IT resources
GDPR compliant mobile working
How can APPVISORY support you?
working mobile – secure and GDPR compliant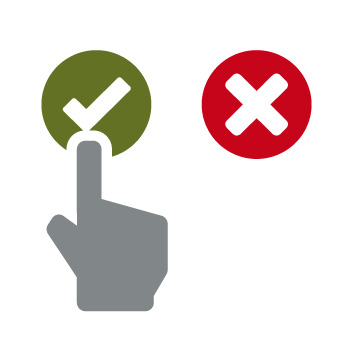 Time saving app controlling
Create a secure and DSGVO-compliant app catalog without extra effort.

Compliant Enterprise App-Store
Identify the apps that work best for your business in an instant.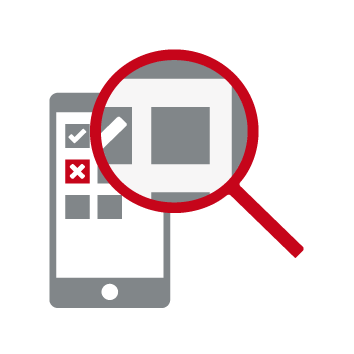 360° app analysis
Get all the important information about your deployed apps and those that will be in the future.

Automated positive-negative listing
Save time and nerves with automatic classification of compliant and non-compliant apps.

Prevention from cyberattacks & data loss
Be one step ahead of data loss and protect sensitive corporate internals and user data.

Avoide fines
Eliminate penalties and GDPR violations with smart app management.
Why you need mobile security solutions

6 million apps
are available for selection in the app stores – most of them without risk assessment

72 % of all apps
process sensitive, personal data

75 % of all apps
do not use encryption for at least one connection

39 % of all companies
already suffered from mobile security breaches – and the trend is rising

900.000 € damage
is caused by a data loss in companies on average
SOURCE: based on more than 1.000.000 app tests with APPVISORY | Dell Technologies "Global Data Protection Index 2020 Snapshot™ 2020"
Use our expertise for your mobile security
1.000.000+ mobile devices
Mobile Security Made in Germany
Expertise & Artificial Intelligence for reliable results
Our Technology
Our APPVISORY Security Engine uses a combination of SAST (Static Application Security Testing) and DAST (Dynamic Application Security Testing). These methods are enriched by new, innovative approaches for intelligent pattern, virus and malware detection.

Our Experts
The APPVISORY team consists of trained app security analysts with a focus on pre-testing and data protection. Based on many years of experience and regular training, they offer the necessary know-how in data protection and security – especially with regard to the EU General Data Protection Regulation.
























Get to know us! The latest news on mobile security, product infos and more.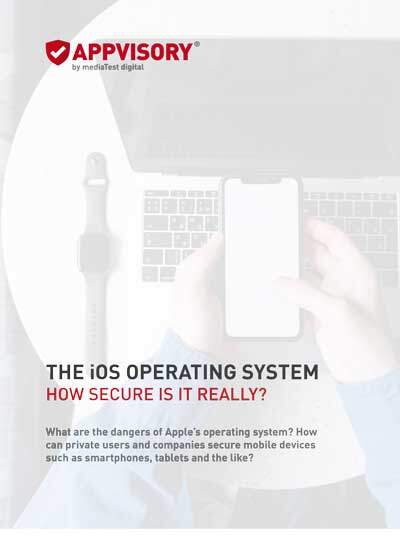 How secure is the iOS operating system really? Find out all the relevant info in our 12-page whitepaper.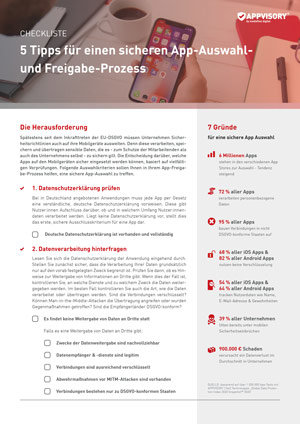 5 points to look out for when choosing an app. Learn how to recognize safe or unsafe apps with the help of our checklist.
APPVISORY - 14 days free trial
Intelligent app management made in Germany
Secure your enterprise mobility with the help of the most advanced App Risk Management solution!
Try now
The integrated solution of MobileIron and APPVISORY helps us to ensure the security of all our devices. Anywhere in the world. We can now provide more public apps to our mobile workforce without worrying about the security of our data.
The protection of sensitive company data is a top priority for us that needed to be transferred to the mobile IT infrastructure. We recognized the need for external app analyses at an early stage and therefore decided to implement APPVISORY as a scalable and fully automated app risk management solution.
APPVISORY enables us to expand our data protection and IT security to the use of mobile applications. That way we can offer our employees the highest functionality of their mobile devices whilst minimising the risk.
Do you want to secure your company successfully?