Mobile Security
for mobile companiess
Protect your company's mobile device fleet with Europe's leader in mobile application and app risk management.
With our products you get
time-saving app controlling
prevention from cyberattacks
avoidance of fines
saving of valuable IT resources
GDPR compliant mobile working
These and many other companies rely on products and services from mediaTest digital:
Use our expertise for your mobile security
1.000.000+ mobile devices
are not managed or visible in companies
pose a risk for companies
already suffered a breach of their security architecture caused by mobile devices
Quelle: APPVISORY Data Base & Rethink! IT Security –Report 2020
Expertise Made in Germany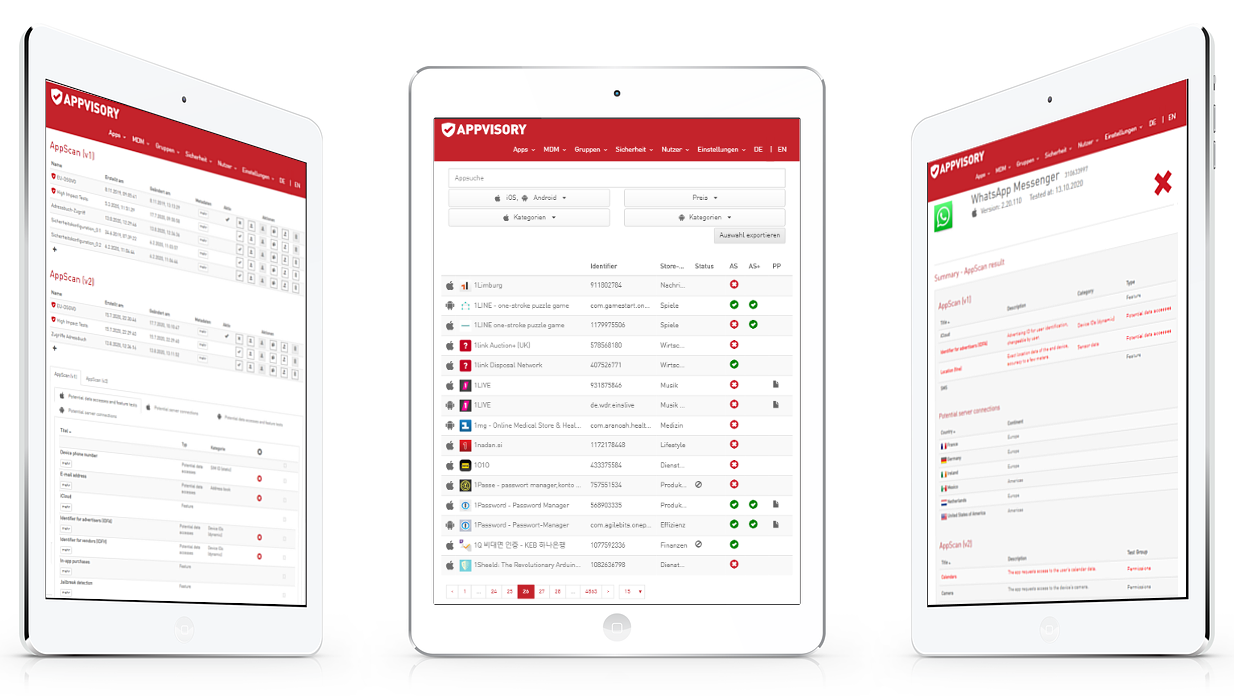 The APPVISORY Security Engine provides comprehensive, fully automated risk analyses for all public and in-house apps of the leading mobile operating systems by combining SAST (Static Application Security Testing) and DAST (Dynamic Application Security Testing). These methods are complemented by our innovative approaches for intelligent pattern-, virus- and malware detection.
We live and breathe cyber security and our experts know it better than anyone else. The APPVISORY team consists of trained app security analysts with a focus on pre-pentesting and data protection. With numerous years of experience and specialized training they have a wide range of knowledge in data protection and security – especially with regard to the EU General Data Protection Regulation.
APPVISORY - 14 days free trial
Intelligent app management made in Germany
Secure your enterprise mobility with the help of the most advanced App Risk Management solution!
Try now












The integrated solution of MobileIron and APPVISORY helps us to ensure the security of all our devices. Anywhere in the world. We can now provide more public apps to our mobile workforce without worrying about the security of our data.
The protection of sensitive company data is a top priority for us that needed to be transferred to the mobile IT infrastructure. We recognized the need for external app analyses at an early stage and therefore decided to implement APPVISORY as a scalable and fully automated app risk management solution.
APPVISORY enables us to expand our data protection and IT security to the use of mobile applications. That way we can offer our employees the highest functionality of their mobile devices whilst minimising the risk.
Do you want to secure your company successfully?