What companies currently have to pay attention to | Ukraine war
The Russian attack on Ukraine is not only sending uncertainty and fear around the world – it also poses concrete dangers in the form of cyber attacks for cyber security in Europe and Germany. The Federal Office for Information Security (BSI) recognizes an increased threat situation for Germany, but no acute threat to information security. However, this situation could change at any time.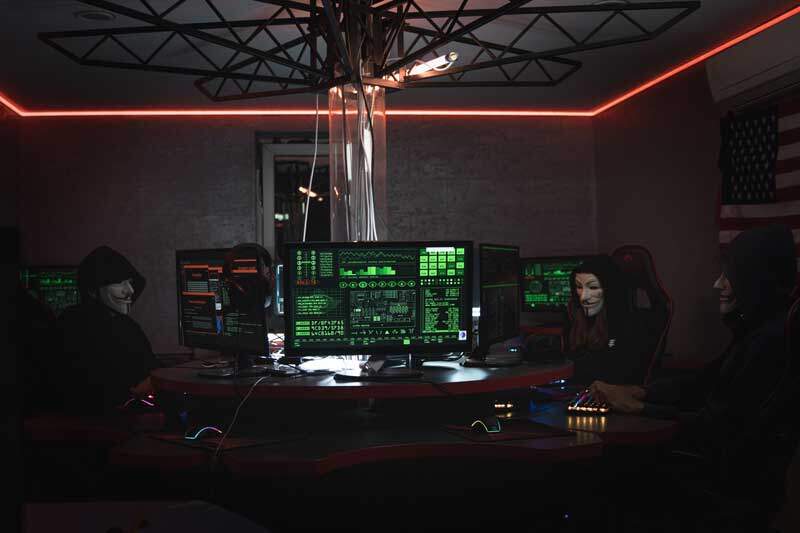 Federal administration, operators of critical infrastructures (e.g., the energy sector), and organizations and companies are already being urged to be more vigilant and ready to respond. The energy sector in particular is among areas that should be on heightened alert. Now, companies need to prioritize security-related optimizations and arm their IT infrastructure against possible cyber attacks.
What is a cyber attack?
A cyberattack is a targeted and malicious attack on one or more IT systems. This attack can pursue several goals.
Targets of a cyber attack
Sabotage: The attack aims to damage the functionality or use of information technology systems.
Information extraction: The cyber attack targets confidential information and valuable data.
Extortion: Cybercriminals aim to extort ransoms by deliberately compromising important systems.
What are the types of cyber attacks?
Cyber attacks always take place via digital networks. So-called cyberspace thus enables criminal hackers to carry out targeted attacks without having to be physically present near the target. In theory, this makes any device connected to the Internet vulnerable to cyberattacks. The most common cyberattacks take the form of ransomware or malware, Trojans and other malware and spyware. Tracing is often hardly feasible due to the high development standard of the programs. However, targeted hacking into the affected IT system, botnets or spam and phishing emails are also becoming increasingly common.
Where are the dangers in cyber attacks?
Inadequately protected data processing systems represent attack vectors for cyber criminals. It is therefore imperative for companies of all sizes to enforce the basics of cybersecurity to protect their IT devices and the sensitive data on them. Potential vulnerabilities must be identified and secured early on – because all it takes for cyber criminals to do massive damage is one unaddressed security hole.
Follow these measures to fully protect your organization from data loss and tampering. This is essential in all circumstances, but especially in times of heightened cyber threats.
Guide: 10 steps to best protect your business from cyber attacks
Deploy sufficient IT staff/specialists!
Companies need to build a professionalized team of IT security experts. Security managers develop security strategies and implement security measures to identify and avert IT vulnerabilities. Within the team, clear responsibilities must be defined so that nothing remains unclear and potential risks are not lost.
Patch your systems!
Manufacturers use patches to eliminate security gaps and keep systems up to date. Therefore, make sure that both the hardware and software used in the company are updated. Enable automatic security updates when possible. When systems are up to date, the risk of a successful cyber attack is significantly lower.
Control your encyption!
A secure encryption method is indispensable for corporate communications. This is because encryption protects against man-in-the-middle attacks and thus against the unnoticed leakage of information. The end-to-end use of secure cryptography should be standard in German companies. Make sure that the programs and applications you use also encrypt their data traffic. To control the encryption of apps on your mobile devices, we recommend the use of APPVISORY.
Check the access controls!
To protect data processing systems from unauthorized access, access permissions must be obtained. Therefore, enforce strict password policies: Passwords used by employees must be unique, have a minimum length and special characters, and be updated regularly. Also, always review all user accounts and remove old, unused or unknown devices. The easiest way to do this is with an MDM-Solution.
Train your employees!
Companies need to educate employees about cyber risks with the help of IT training in order to raise their security awareness in the long term and thus close sensitive gateways. Every member of the company must be made aware of the digital dangers and how to deal with them.
Prepare a emergency plan!
Regularly practice with your employees how they should proceed in the event of a security incident. Run through various scenarios and discuss responsibilities: Who gets to decide whether to shut down the web server? Which network segments may be taken offline? Who can be reached in an emergency outside office hours, even without a functioning network?
Make backups!
Create backup copies (backups) and test them. Companies that comprehensively back up their data are protected against cyber attacks such as extortion attacks (ransomware). Backups should be made regularly and tested for functionality, consistency and up-to-dateness.
Keep an eye on warnings from the BSI!
The German Federal Office for Information Security (BSI) is the federal government's cyber security authority and informs the public about fundamental and current information technology risks and possible protective measures. Companies should check the BSI's situation reports daily and take warnings seriously.
Don't forget your mobile devices!
Only allow your employees to use mobile devices that have a sufficient level of security. Insecure apps in particular harbor massive risks and can lead to sensitive company and personal data falling into the wrong hands. If you want to get a comprehensive picture of how secure your mobile infrastructure currently is, you can use the app risk management tool APPVISORY for two weeks free of charge. Get demo access here.
Conduct self-directed cyberattacks on your system if necessary!
Those who know where their weaknesses lie can also close them better. There are now several ways to subject your own systems to a cyber attack test. These "penetration tests" can reveal vulnerabilities before criminal hackers do. In addition, PrePentesting procedures are an option. These require less elaborate preparation than pentests and are therefore easier to implement. APPVISORY therefore offers the possibility to comprehensively illuminate the security level of individual apps within the scope of a PrePentest conducted by experts and thus identify possible attack vectors. Find out more here.